Britt Bunyard, PhD - Publisher & Editor-in-Chief
As a college professor I have taught a broad range of undergraduate and graduate Biology courses, including Evolution, Microbiology, Mycology, Invertebrate Zoology, Plant Physiology, Biochemistry and Environmental Science.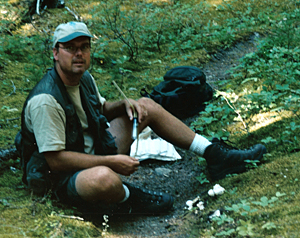 The main focus of my research interests is on the coevolution of macrofungi and Diptera, the true flies. Scholarly achievements include publication of scientific papers in numerous research journals, book chapters, one patent, articles in popular science magazines, and one full-length book of travel essays from living in Southeast Asia. Until recently, I was Editor-in-Chief of NAMA's journal McIlvainea and newsletter The Mycophile, and as a Subject Editor for the Entomological Society of America's journal Annals of the Entomological Society of America. I am married and have three children, plus assorted livestock roaming around the farm.
EDUCATION:
The Pennsylvania State University, University Park, Pennsylvania
Ph.D., Plant Pathology, 1995

Clemson University, Clemson, South Carolina
M.S., Botany, 1991

Kent State University, Kent, Ohio
B.S., Biology, 1989